So while we're in the midst of all these fun birthday posts, why don't I let you all in on Bella's
Top 5 Fav
Books from this past year?
Dear Sandra, I don't know what it is about your books, but at one stage or another, my child has LOVED your books. They are simple and short. They are super silly. And they teach something basic in each one (i.e. animals, body parts, which one does not belong?, etc.). For those of you interested, I really don't think you can go wrong in picking one out, but I will say that Bella's current favorite is "Horns to Toes and in Between".
by Ree Drummond

Does this one seriously surprise any of you? I love the pioneer woman, therefore I love this children's book. Plus, my daughter gave it to me for Mother's Day. ;) PLUS, my daughter learned how to "Moo" with this book... at 5 am in the morning. Yikes. Definitely a top five.
by Michael Rosen and Helen Oxenbury
Oh, I just love this book. I have a silly song and hand motions that I do with Bella, and she gets so in to it. She literally throws over the page right before the bear appears, and then at the end she waves "bye bye" to the bear as he heads back home.
by Lisa McCourt and Cyd Moore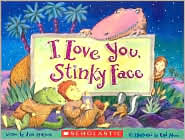 The message in this book is so precious. I just love how the author has captured the silly ideas that kids have and then turns it in to an opportunity for parents to say "I love you." I'm not 100% sure what makes Bella sit still for this whole book. Maybe it's the great illustrations, or the silly voices I do, or perhaps she just loves hearing me say I'll love her no matter what- even if she becomes a super smelly skunk or a meat eating dinosaur or an alien from Mars that eats bugs instead of peanut butter.
by Dean Hacohen and Sherry Scharschmidt
This book is probably not as familiar to bedtime readers out there, but Bella LOVES it. It has become the last book we read before bedtime each night. The book asks, "Who needs to be tucked in?" And on each page a different animal jumps out and exclaims, "I do!" Bella thinks it's hilarious. And so we do, too. I even pasted a picture of Mike to one of the animals so that she can always say good night to Daddy even when he's not home in time to tuck her in.
Illustrated by Steve Haskamp
And as a bonus, I'll go ahead throw in #6, our eight silly monkeys. Again, Bella loves the repetitive nature of this book. She loves touching the monkeys that stick out, and she also loves sticking her fingers through the little holes on the opposite side of the page. She has also learned how to bop herself on the head and kiss the monkeys that have fallen off the bed. Killer cute! So yes, this book definitely belongs in our top favorites.
We'd love to grow our book collection. What are your favorite books?
*I don't get any kind of special deal for mentioning these books. Bella has truly just loved books!